Your individual 3D metal printing workshop
Construction. Design. Optimization. Print. Finishing. Asembling.
Generative manufacturing, selective laser melting or colloquially 3D printing metal: the process of manufacturing parts in metal places a number of demands on design, engineering and production.
We have been dealing with 3D metal printing for more than 5 years. Today we have a comprehensive machine park and knowledge from a large number of projects. We want to share our knowledge with you! If you are thinking about whether and in what form 3D metal printing can be beneficial for you: start with our individual workshop. The topics are tailored to your requirements. The goal is to provide you with a solid basis for your decision. But also increase your knowledge and understanding of the new technology.
Examples of topics for your workshop:
The manufacturing technology 3D metal printing at a glance
Examples of suitable projects
Your examples in 3D metal printing
Design and construction
Simulation and optimization
Materials: properties and differences
3D metal printing live: print parts from your projects
3D scan: comparison of design and result
Further processing of 3D metal printing parts
Finishing & Assembling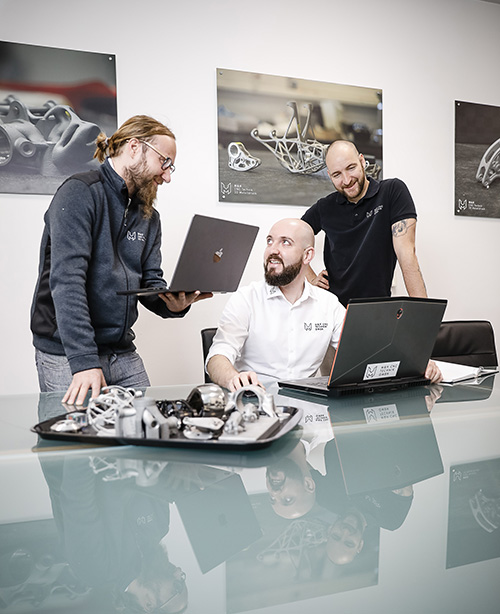 The next steps to your individual 3D metal printing workshop?
Simply fill out the form or contact us personally right away. We will discuss all the details with you. As the 3D metal printing workshop is customized to your requirements, we will make a proposal regarding duration, scope and cost.
We protect your data and use it only to respond to your request. Your request is of course non-binding.
3D Printing Check
Not sure if you too can benefit from 3D metal printing? Use our 3D printing check!
Simply upload your data and we will check your project without obligation.